To celebrate Memorial Day, I plan on doing pretty much nothing for the next few days. It will be epic. It will be awesome. It will be at least 2 full days of knitting, sleeping, and watching a marathon of something on DVD. Then, on Monday, I'll be heading into Richmond to catch what could be the most
creatively panned movie ever
, Sex and the City 2.
I am not mad at this movie. Granted, I don't have high hopes. I've been an SATC watcher for many, many years, and I have a group of 3 other fabulous ladies that I always watch SATC with. (I'm the
Miranda
. Also, if we were Golden Girls, I'd be the
Sophia
.) I loved the series, just loved it. I can watch it from start to finish, then start it all over again. So many episodes are SO well-done, and I especially think the series finale wrapped up everything so well. Even The Hubs watched an episode, but JUST ONCE, and JUST because Michael Showalter was set to guest-star (and then I got to TELL Showalter this story in person, and judging by his reaction, he seemed to like it...)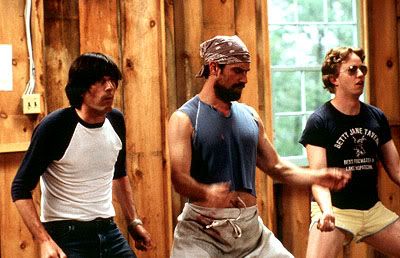 He looked a little like this... just kidding.
HOWever, I know it's going to be ridiculous. I know the plot is going to be nonsensical. I know I will not be watching something that will win any kind of awards, except possibly Razzies. I don't really care. I'm more excited about seeing those other three ladies, and having a cocktail, and just relaxing for a little while. I don't see anything wrong with that.
Plus, I'm kind of excited to see the terrible terribleness.