Since YA is a relatively modern phrase, I'm going with my favorite classic of children's literature. Also, I know the image included is from the movie adaptation of this book, and I'm totes fine with that. Watch the movie before you judge. It stars Dame Maggie Smith; therefore, it's amazing.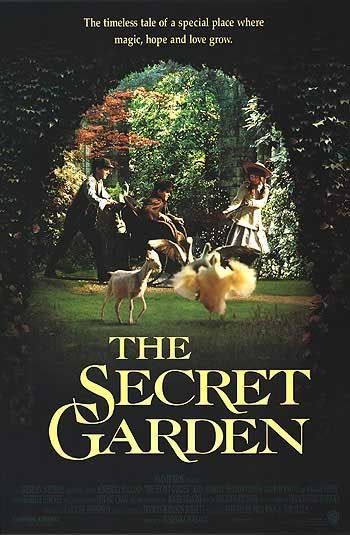 The Secret Garden
by
Frances Hodgson Burnett
I talked before
on this blog about the books that influenced me as a child, and this one definitely made the list. This was one of the first books I chose to read on my own that wasn't assigned through school and that wasn't BSC or Sweet Valley Twins. I owned a copy (can't even remember when/where it came from), and one random day, I looked through my bookcase, saw this, and just started reading.
I adore the main three characters of this for different reasons. I love Mary Lennox because a- her name is perfection and b- she goes through a transformation that's insanely awesome. She starts as the brattiest brat in Bratonia, and by the end, she's like one with the garden, all zen and magic. I love Colin for part of those same reasons but also because he doesn't immediately change. Colin is sort of awful, but he works his awful like no one I've ever seen. And finally, I love Dickon because he seriously
is
awesome. Unfortunately, I cannot think of a good way to express my love for him without it turning into a That's What She Said joke, but... I've always wanted my very own Dickon (snicker snicker).
The garden itself always appeal to me-
a private, beautiful place
to play games with your friend and just enjoy life as it happens. I've never really been an outdoorsy kind of girl, but this story showed me the kind of outdoors that existed outside of my own neighborhood. I grew up in the more urban area of my district, whereas a lot of my friends were from the more rural side, and I consider myself to be more of a city girl than anything else. However, ever since I read
The Secret Garden
all those years ago, if I had the chance to live in a manor house in England that's surrounded by lush gardens and is preferably moor-adjacent, I'd hop a plane in an instant. Luckily, I married a man who'd go along with this plan just as quickly.
This book is already on my Kindle because, since it's a classic, it's free! I haven't read it in many years, so I'm hoping I'll get the chance to read it again soon. So many books, so little time. Ah, the life of an habitual reader...