I'm having a really excellent Saturday, and I hope you are too! I've got plans to go see The Hunger Games a second time with many members of the DC YA Mafia, and I just finished watching a ridiculously adorable movie that I've wanted to see for YEARS called
Little Manhattan
. Yes, it stars Josh Hutcherson, but he's all of about 11 years old. If you're looking to watch one of the sweetest romantic comedies ever, you should check this out. I think more people should see this movie.
Just like I think more people should read this book!!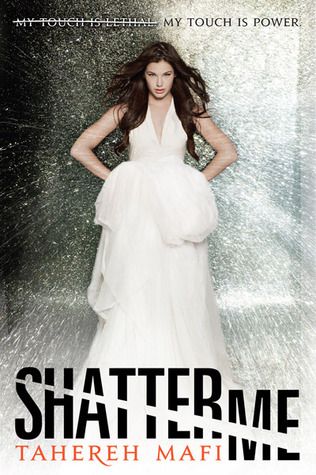 Shatter Me
by
Tahereh Mafi
Now, a lot of people have read this book, but why do I wish
more
people have read this? Simply because I love this book SO HARD. This was actually a huge factor in my becoming a member of the Wastepaper Prose team. This book came out last October, but there were advanced copies showing up for months before. I follow Tahereh on Twitter, and she's gut-bustingly hilarious and enormously sweet. I had heard a bazillion great things about her debut novel, that it had all the best mix of all the best things that I like in books, and I was all grabby hands looking for it. Susan saw my pleas on Twitter to find it, and she
very graciously
offered to lend me her copy back in August. I told her I'd write a review of it, if she wanted. And the rest is blogger history!
Why do I love this book? It really does have all the best thing that I like in books. It's a little bit dystopian, a little bit romance (
mucho caliente
romance!), a little bit X-men... it's perfect for me. Plus, the writing is amazing!! It's very original, and I've never read anything quite like it since. Tahereh will be in the area next month, so I get to meet her in person and everything! I hope she doesn't mind a big ole bag o' crazy, because that's what I'll be!
If you're looking for a good book to read post Hunger Games, this is a great pick!