I have many! MANY. Here they are.
JK Rowling
, aka The Queen
I love her so much, I often refer to her as Jo, since JK is her pen name. AND I'M A NUTCASE.
John Green
Love you too, buddy. It's an honor and a privilege to have my heart broken by you.
Stephanie Perkins (image from her website
stephanieperkins.com
)
Girl is so talented, it physically hurts me but in that good way that inspires you and makes you feel all the emotions and I'm not crazy I swear.
But the winner winner chicken dinner is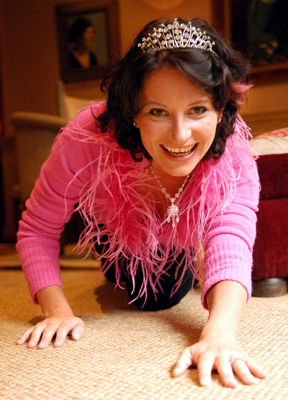 Meg Cabot
aka The Princess!!
I have been a Meg Cabot mega-fan for years, since
The Boy Next Door
, which is not YA. I read all of Meg's adult books as fast as I could and as soon as they were released. She is definitely one of my pre-order-without-question authors. A few years ago, armed with a library card and a Paperback Swap account, I decided to read her most famous YA series, The Princess Diaries. Just when I thought I couldn't love the woman any more than I already did... she went and created one of my favorite male characters in YA literature, Michael Moscovitz.
What I love about Meg Cabot's writing is that it's so down-to-Earth. She writes in a very universal way, but it's still so good. It's lyrical and sweet, hysterical and honest. She does an amazing job establishing a voice for her characters, especially Mia (who I will rave about tomorrow!). I love simple, attainable, delightful writing, and Meg writes just like that, every time. I'm never disappointed.
Also, Ms. Cabot? If I ever get the chance to meet you, I apologize in advance for the extreme amount of fangirling I will do. Squealing, stuttering, telling an awkward story that has no relevance to the topic at hand- yeah, it's all happening. Sorry, Meg.